Clean up the air with smart monitoring solutions, get advanced analytical insights on air quality, take remedial measures, and enable your business to take better decisions on policies around air pollution.
Our innovative air-quality monitoring platform, deployed on Cumulocity, helps you get real-time data on the precise ambient air quality. Backed by a system of sensors and microcontrollers, generate insights to track the environment you operate in and drive effective decision-making for the larger community.
---
Our IoT based air quality monitoring system is inexpensive and extremely easy to use and maintain. We offer seamless visualizations through a web and mobile application, and our high-end, industry grade hardware is suitable for both indoor and outdoor settings. Here are some of the benefits of using our solutions -
Remote Monitoring of Humidity, Temperature, PM 2.5, PM 10, AQI, CO2.
Portable and useful for indoor and outdoor setting.
Statistical reports.
Automated notifications to citizens.
Seamless integration with BACNet based systems.
Air Quality trends and recommendations.
---
HARDWARE
Air Quality Monitoring unit, which has inbuilt sensors for measuring temperature, humidity, CO2, volatile compounds and can transfer data in real time to Cumulocity cloud platform using GSM or Wifi.
SOFTWARE
Advanced dashboard with graphical overview to monitor and manage multiple devices from a central platform, view real time data and historical trends, compare readings. In addition to this, a Pollution Analytics Engine, notifications on threshold breaches, portable monitors, local memory, visual indicator, and configurable sensors for extended battery life.
---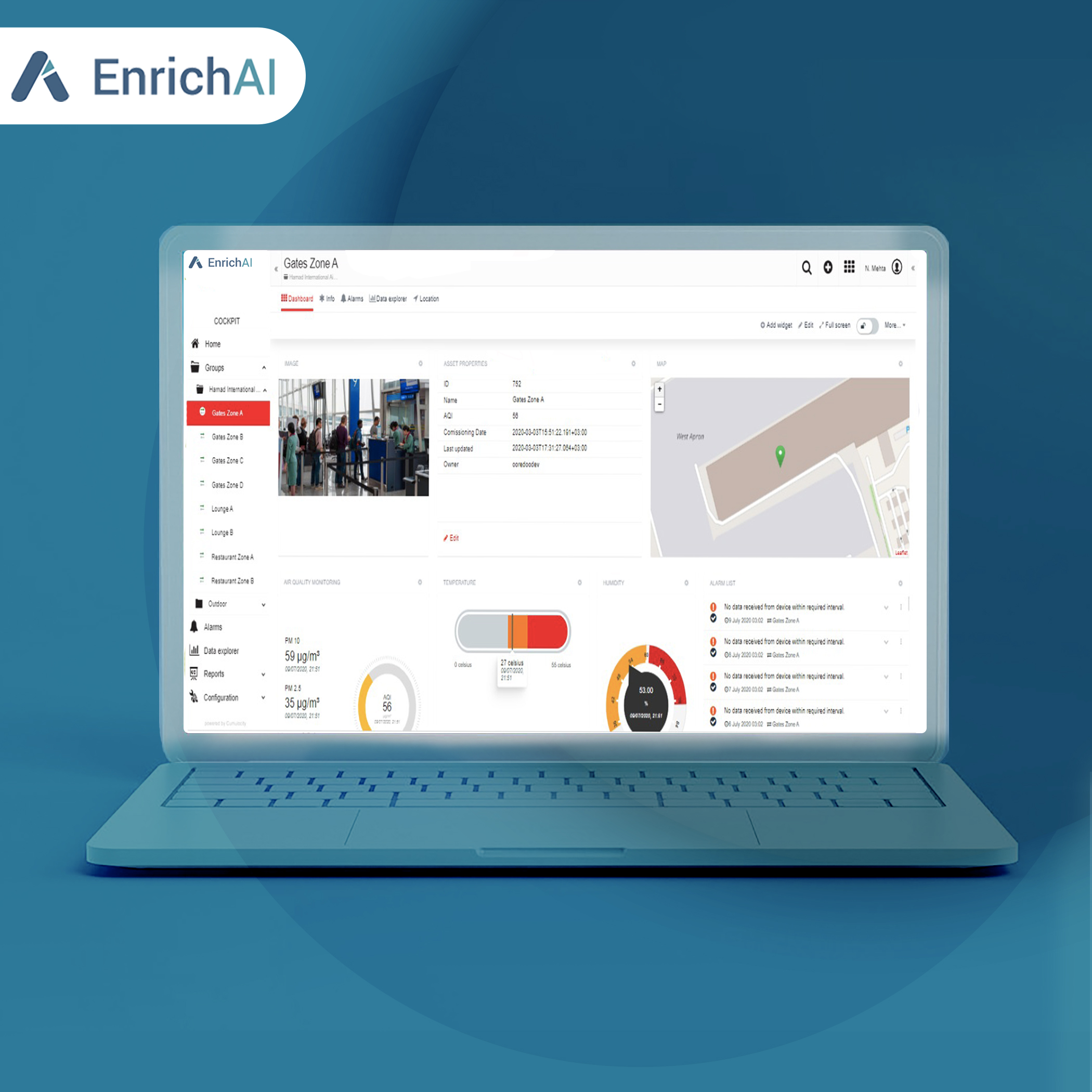 SMART CITIES AND POLLUTION MONITORING
Enabled monitoring of air quality levels in the busiest urban areas, periodically sent data and analytics to authorities, and helped devise better policy-level strategies for sustainable development of cities.
BOOK DEMO