SOLUTIONS
Smart
Attendence
Management
.
Get ahead of your peers with automated and smart attendance management systems, that can save your organization money and time spent on tediously recording data from traditional biometric devices.
Our smart and near real-time attendance monitoring solution is deployed on the Cumulocity platform, and is non-intrusive, and easy to understand and use. From tablet integrated RFID reader, biometric fingerprint reader, to android applications and a comprehensive management dashboard, get rid of the hassles of manual attendance monitoring.
---
Our system adds a whole new dimension of unprecedented intelligence and situational awareness, by enabling digital visibility into your entire workforce and other key assets. By analyzing patterns, tracking behaviours and sentiment through facial recognition, our solutions will help you reduce fatality risks, improve your emergency response rate, and keep tab on your Environment, Health and Safety (EHS) accidents. Here are some of the benefits of using our solutions -
Fast Punch IN/ Punch OUT.
Offline sync capability.
Productivity and attendance monitoring.
Instant alerting.
High interoperability with Payroll and HR systems.
Embedded security protocols.
---
HARDWARE
Industrial tablet with biometric sensors, 5 MP camera, RFID scanner which runs on an Android OS. The tablet supports GSM network and WiFi. (Discover more to take user to partner catalog page)
SOFTWARE
Combines a cloud-based web dashboard for tracking of check in and check out of employees across departments and receiving productivity reports, with an Android application running on the tablet to capture attendance entries.
---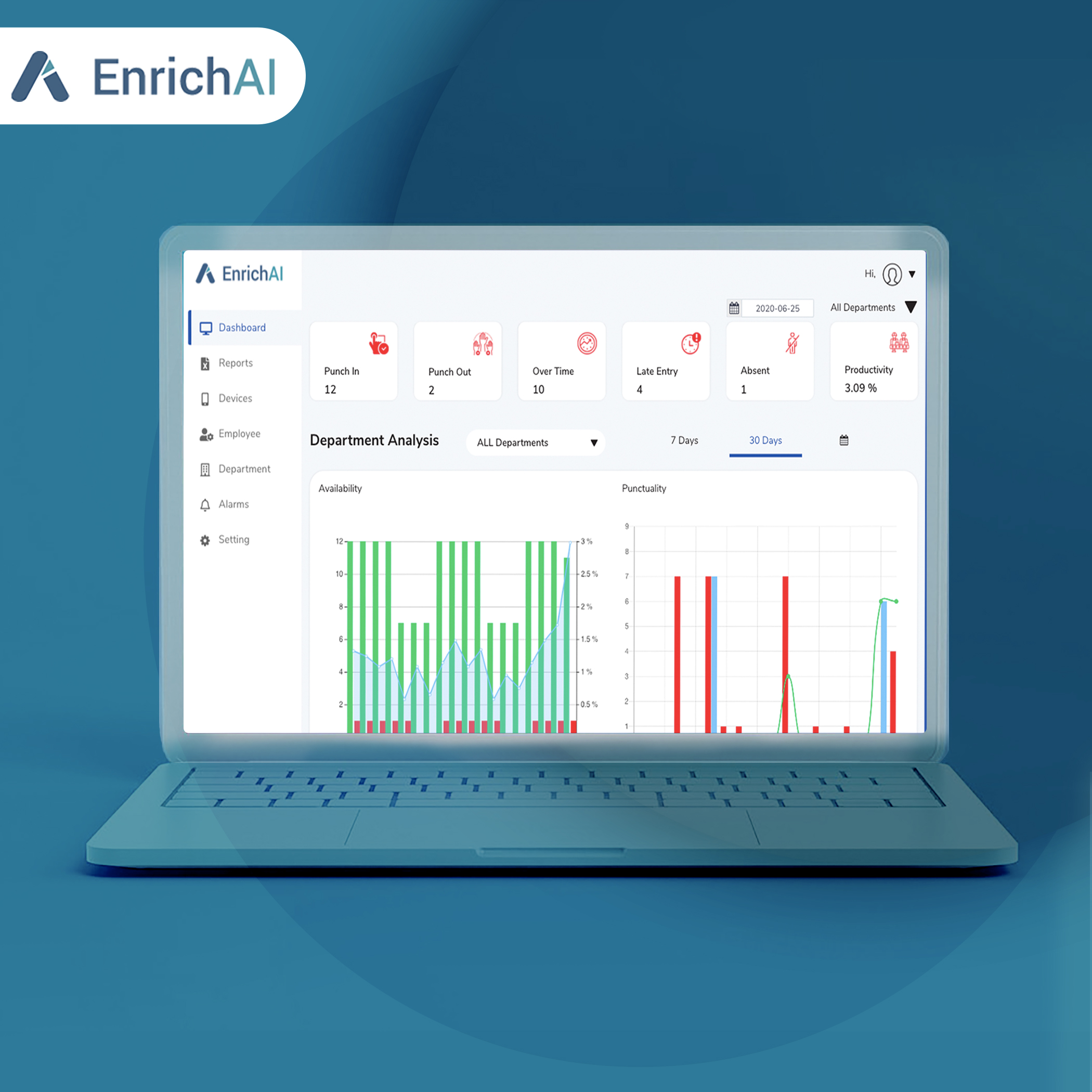 CONSTRUCTION COMPANIES
Enable the management to track attendance of contract workers across different sites in an automated manner and with complete transparency. The system helped them analyze operational insights and develop strategies to enhance productivity.
MANUFACTURING COMPANIES
Facilitated the transformation journey of a manufacturing firm that wanted to shift from a pen-and-paper system to a digital network that would track attendance and time sheets of its employees operating on the shop floor. The system threw up data that would help with performance and productivity reviews and reports, periodically.
BOOK DEMO