SOLUTIONS
INDUSTRIAL
TRANSFORMER
MONITORING
.
Stay ahead in the era of rapid industrialization, and keep pace with a dynamic working environment with our advanced tech solutions driving your growth story.
Leverage the limitless potential of IoT based systems, AI applications, and big data analytics to monitor and stay abreast of the health of your industrial transmission and distribution systems. Get actionable insights and inputs to solidify your predictive maintenance and fault detection alerts, and strengthen your industrial processes and control centers.
---
Our systems and services will intelligently capture transformer parameters from the site of functioning, to help you consistently deliver on your energy requirements to the end consumer. We empower utility businesses and manufacturers with handy and real time information about various common, as well as advance-level parameters, which enable them to define life and performance of their units. Here are some of the benefits of using our solutions -
Tagging of transformers using GIS (Geographic Information System).
Remote readings and historical trends of Electrical parameters – V, I, PF, KW, KVA, KVAR etc.
Real time transformer status ( Normal, Overload, Unbalance, Low voltage).
Remote readings of Oil level, Oil Temperature, Ambient temperature, Winding Temperature etc.
Automated alerting.
Anomaly behaviour detection.
---
HARDWARE
Non-Intrusive hardware kit, which includes Transformer Monitoring Unit (TMU), Energy meter, and wired sensors for Oil level, Oil temperature, Lug temperature, Ambient temperature and humidity.
SOFTWARE
Self-serviceable web and mobile application hosted in Cumulocity – public cloud / in premise instance, which allows users to manage geographically distributed transformers from a single point and track device health, connectivity status, physical parameters and electrical parameters.
---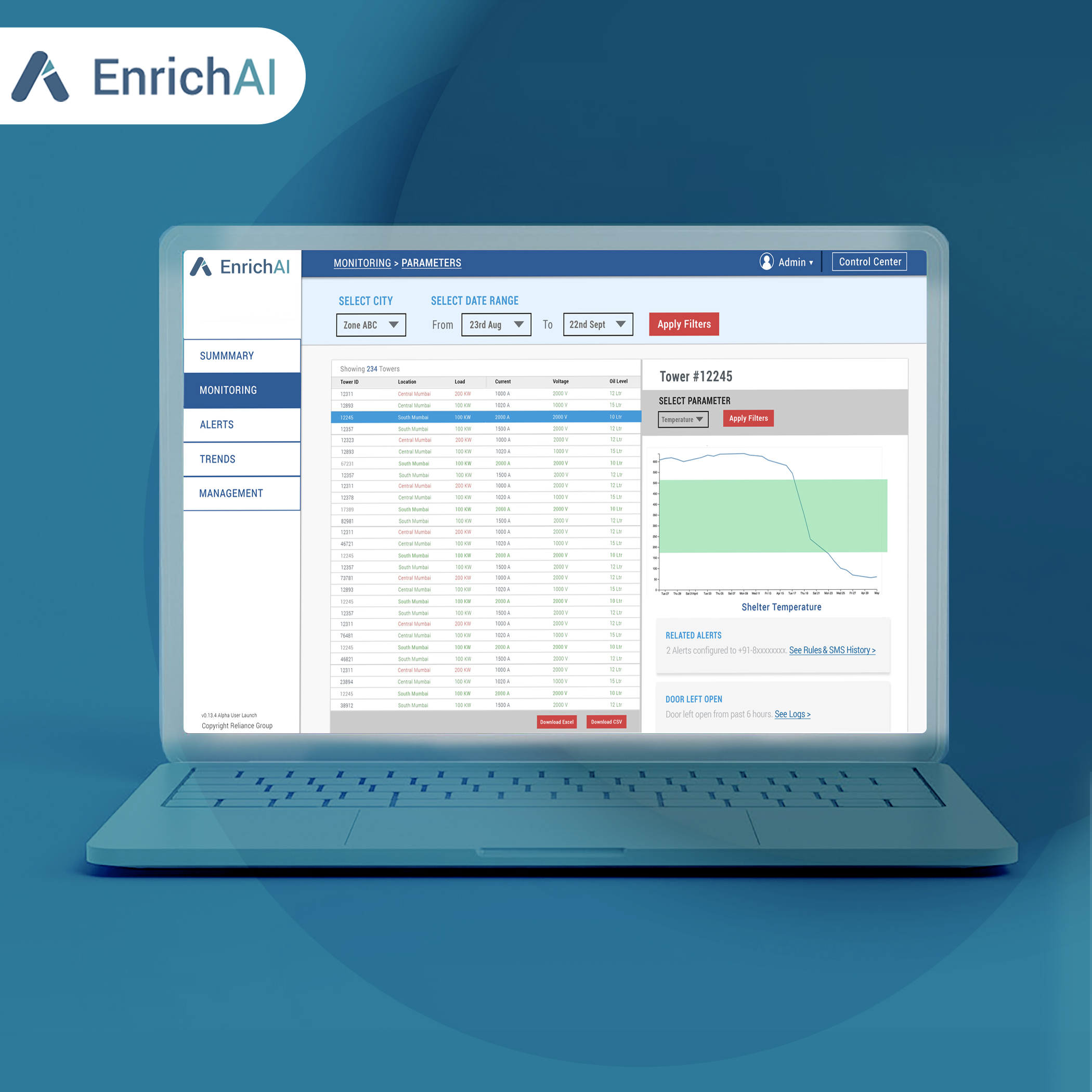 POWER DISTRIBUTION COMPANY
Supporting the backbone of power distribution networks through automation of distribution substations, and smart metering solutions. We help power distribution companies utilize their power network in an optimum way.
MINISTRY OF ENERGY(MOE)
Helping the Ministry with a GIS-based system to give a comprehensive picture of the condition of power infrastructure across regions, on a single dashboard, to improve Equipment Utilization Ratio.
BOOK DEMO